Today Chinese Health Authority said Wednesday it already received reorts of 13 new confirmed cases of the novel  coronavirus infection and 11 deaths on the chinese mainland on Tuesday. And all deaths were said in Hubei Province, according to the National Health Commission. So till now, the global situation seems not so good. People from all countries are panic and upset, but please do stay at home to keep you own safe and wear a face mask when you have to out. Surely, during the coronavirus, online business is very hot to make money. People are boring at home but still want to make money. 
So what people could do when they stay at home? I believe you have the right answers. The data says almost 89.34% people do online shopping via Amazon, Ebay, Aliexpress, Shopify, Wish and the more. That is a great plate for B2C business. I'm sure all guys are able to buy goods they need on these plateform easily.  However, what about B2B Business? like some wholesaler, small importers, retailers? I believe the most pupular platform is Alibaba found by Jack Ma. So Here I will introduce you how to purchase goods from Alibaba simply here. 
Just 7 Steps Teach You Be An Expert Buying from Alibaba
1. Is It Suitable for Your Business?
When you find your local suppliers can not satisfy your buying needs , I think you'll start considering sourcing overseas. With its wide global awareness and presence, Alibaba has become the No.1 choice for many international business people. 
However, is it the best fit for your business model? We know Alibaba is a B2B platform, connecting buyers and sellers globally and empowering them to do business more easily, via providing one-stop solutions from product selection, payment to logistics arrangement and the more.
Not like the B2C e-commerce sites such as Aliexpress, Amazon, where you are able to buy single item. Alibaba is more a platform like an online trade show, where you can find thousands of suppliers at the same time from various industries, for example, Electronics, Machinery, Beauty, Bag, Jewelry, Holiday& Party accessories, etc. Most of the items on Alibaba have a MOQ requirement, ranging from USD$1,00-USD$1,000 or the quantity required. So  if you buy goods in small quantities, you'd better switch to B2C choice, such as Aliexpress, which has lower or no MOQ requirement, and supports single item purchasing. But the shipping fee maybe a little high. 
However, Alibaba is not a Pandora box, not a place for everything. Below items are top 3 categories that we'll suggest you not to buy from Alibaba. 
Branded products, such as iPhone, Nike shoes, etc  
Food products
Alcohol, cigarettes, drugs, etc 
Although most suppliers on Alibaba are Chinese suppliers, you can also find overseas suppliers from other countries across Europe, America, Southeast Asia, etc.
2. Direct Search vs RFQ
Normally, you will find 2 ways for seaching the goods or supplier on the Alibaba. Direct search is the most natural way to search for suppliers on Alibaba. You type in your buying item in the search bar, it will present you with thousands of suppliers. So you'll need to scroll down each supplier, checking their qualifications, certificates and transaction histories, etc, then send over inquiries to those looking good for further selection. 
Step1: go to https://www.alibaba.com/ and type in the product you're searching 
Step2: select top supplier to send inquiry (eg. gold supplier) 
Step3: contact supplier by clicking the button on Alibaba webpage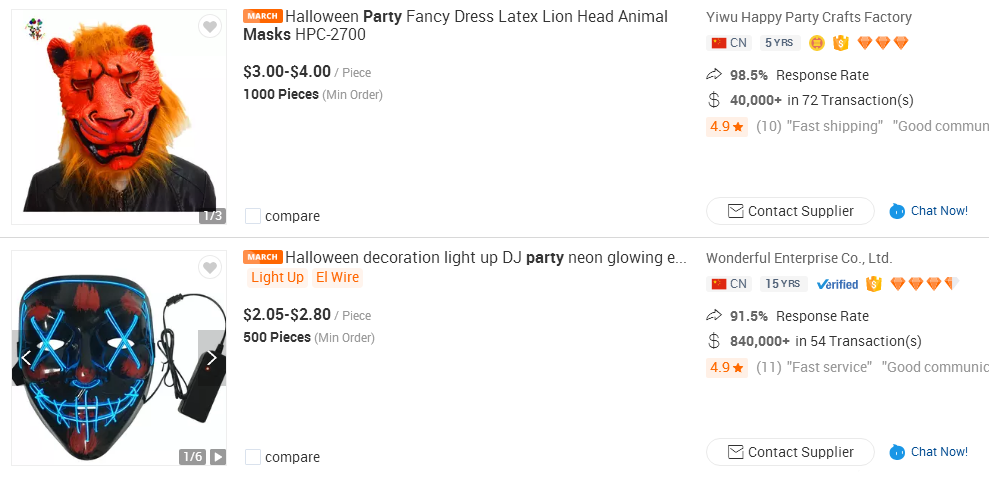 Alibaba RFQ (Request for Quotation) is a service provided by Alibaba to global buyers to post buying requests and manage all quotations on the RFQ service platform. Unlike DS for supplier one by one, through RFQ, you can get 10+ more quotations very quickly from buyers.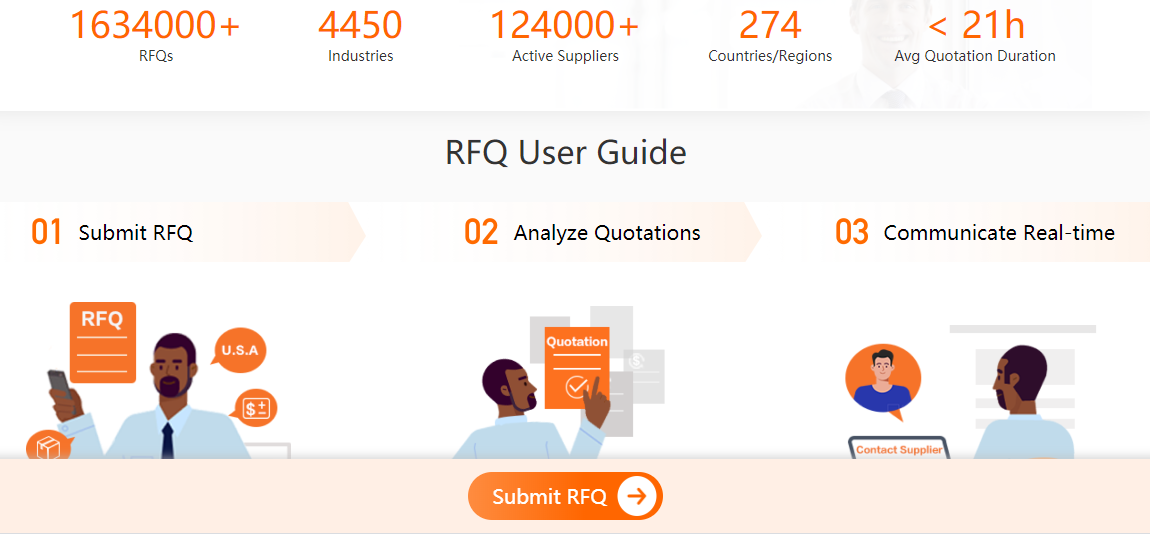 Step1: go to Alibaba RFQ main page: https://rfq.alibaba.com/
Step2: complete the RFQ form details as you buying need
Step3: submit RFQ and wait for the suppliers to send you quotations 
Step4: check and compare quotations in the message center of RFQ dashboard 
Step5: select 2-3 good suppliers for further communication 
After using the above two methods, the results are clear. Under direct search,you will need to spend hours reviewing the supplier info, sending out inquiries one by one, then waited for maybe 1-2 days to get the replies. 
While under RFQ, just within 10 minutes after you sent out the buying request, you will immediately got 10+ quotations from multiple suppliers, and you were also able to select 2-3 good ones for further negotiation.
 So if you are new to your product , and do not want to spend hours in developing a long list of suppliers, I'd suggest you use Alibaba RFQ for more efficient results. If you still feel difficult to find good suppliers by yourself, you can always turn to a sourcing agent for help.
3. Choose the Best-matched Supplier
Gold Supplier: a gold supplier is a paid premium membership on Alibaba. They have also been authenticated by a third-party and Alibaba staff through real onsite check.
Verified Supplier: a verification icon says the supplier has been authenticated and verified by a third-party agency. These checks have been conducted to ensure gold suppliers are legitimate and existing companies, but do not verify their business reputation.
Supplier supports trade assurance: the supplier agrees to use trade assurance to protect buyer's interests in the event of quality discrepancy and delayed shipment.
4. Negotiate with Suppliers for Best Price. Customize Samples before Production.
After selecting a couple of suppliers, the next step is to negotiate for a better price. This takes techniques, you'll need to know what the suppliers care most about in order to ask for a better price, such as quantity, payment methods, packaging, Shipmet ways, etc. Usually a large quantity, and a favourable payment method like T/T 100% in advance surely will increase your bargaining power. If you need customized packaging, usually you'll need to meet their MOQ requirement for customization, otherwise, yes. The customized product price is higher just like our customized mask, normally the price will star from $1. Normally, our costume mask price is 0.35USD – 0.65USD.
After finalizing prices, the next important step is to customize the pre-production sample. It will let you know the quality standard for mass production. Not a buyers will forget to do so because they think it takes time and money to confirm the PP samples' quality back and forth. 
That mindset is totally wrong. You'll have to put in the time and efforts in the beginning in order to ensure the smooth delivery later. Let us show you how it works. 
Ask the factory to prepare to PP sample order for quality checking before mass production.
Provide product specification sheets or other attachments to the supplier 
Confirm quantity: one for buyer, one for vendor
Importer check sample quality, seals it and send back to vendor for production reference 
If you find variations in samples, you can ask for re-submission for PP sample or confirm for bulk production with comments to be corrected in mass production. Usually the supplier don't charge the PP products fee , but need pay for the shipping cost.
5. Choose Trade Assurance or Other Transaction Methods for Placing an Order.
After settling down all the above steps from supplier selection, price negotiation to sample confirmation, it is time to place an order! You can either create a trade assurance order with suppliers who supports it, or place a normal order. If any problem occurs, don't worry, the Alibaba service team will help you at any time.
6. Find Freight Forwarder to Ship Cargo from Alibaba Supplier to Your Address.
After the tedious process of purchasing products, finally you will come to the last vital step-shipping the goods. Normally, for the large quantity  orders, the sellers will ship the goods by containers. You can require your own forwarder to ship the goods or you can ask your seller to help you find a low-cost forwarder for you. Here you can find much knowledge that the forwarder knowledge. 
7. Hire 3rd Party to Inspect the Quality.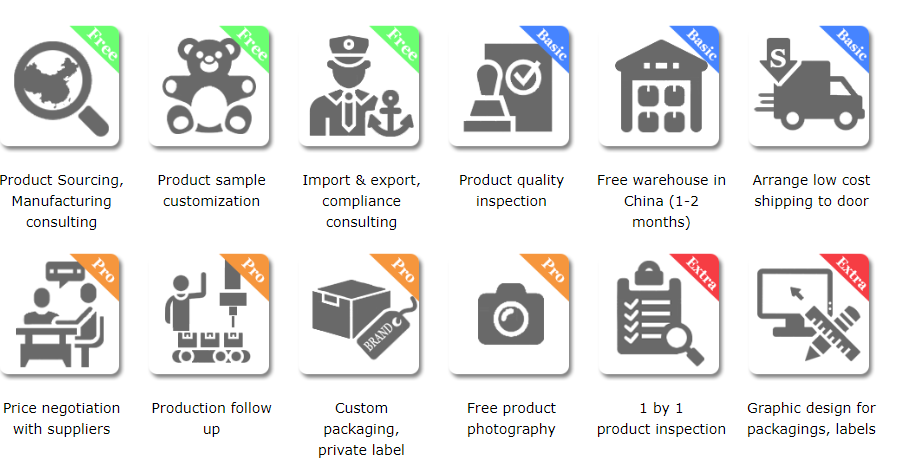 (The picture just shows one sourcing agent's charge fee by different requirement here. Basic: around 10% service fee. Pro: 15% service fee. Extra: over 20%  service fee.)
The last step before shipping is to inspect the quality of your goods. As you don't want to end up receiving large number of defects after this complicated importing process, it is necessary to inspect the quality before your shipment.  Don't just check the pictures your suppliers provide. When you are overseas or do not have a representative office in China, you can usually get it done by hiring a 3rd party. Just like our Lego Party company, we have our own third party inspection team to check the quality before shipment. 
In a word, it is a little complicated for you to find a good supplier on Alibaba. It's a really time-consuming and maybe you'll very upset when you do by your own.
But we can help you to find the right items for you without any charge. Because last year we have set up our own sourcing teams for better service our oversea good partners. Now we have 3 trade department and extend our business from party accessories to more ranges like makeup items, jewelry, toy, gift, etc. So tell us your buying items in these range and we can surely help you to get a better price for you and provide free quality checking service under your requirement.  Welcome any message!