PGG Mardi Gras Lace Mask Venetian Mask Costume Party Accessory Mardi Gras Theme Party
This PGG Mardi Gras Lace Mask features lace decorate on mask surface and PGG glittering, with a small purple gem in the center of the mask.  Keep calm and have a party like never before with LG Party products. The trend is blooming around with our product, so take it and have a sip of life! Why settle for less? Buy in bulk and get the best out of it. Great costume mask for your Mardi Gras Outfit.

PGG Mardi Gras Lace Mask Venetian Mask Costume Party Accessory
Mardi Gras Eye Mask Costume Party Accessory

Made from Plastic, Mardi Gras theme party, 7″ x 4″

one size fits most all
Secure with a black ribbon
Perfect for Mardi Gras Themed & Its Costume Parties
Customer Also Bought Below Popular Mardi Gras Masks
People Also Viewed Below Masquerade Masks Mardi Gras Supplies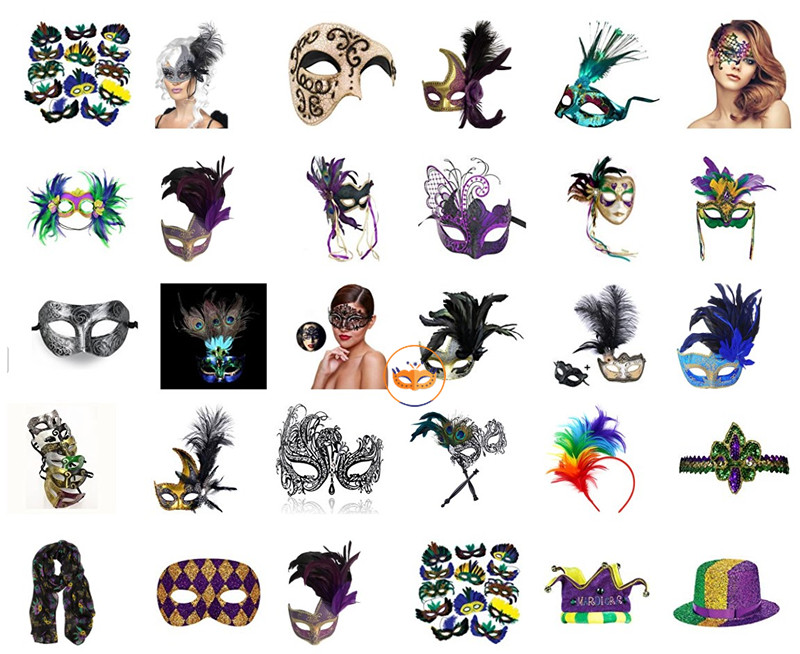 As we all know party mask is known as the first great disguise ever. Our ancestors simply applied them for religious rites and theater, but nowadays everyone has fun wearing a unique mask. Lego Party covers whether scary latex full masks for Halloween or funny character masks, Venetian Venice masks made of paper mache or masquerade masks made of plastic, we have various masks masques styles, for example, Carnival Mask, Venetian Masks, Fantasy & Movie Masks, Celebrities & Politician Masks, Animal Masks, Foam Latex Masks, Kids Masks, Horror & Halloween Masks. Morphmasks, Paper Masks, Mens Masks, Women Masks, Mini Masks, Mask Magnet, and they're waiting for you to discover them. 
Mardi Gras Masquerade Masks for Kids & Adults
Set your sights on a chic Mardi Gras celebration when adding masks to your Fat Tuesday party supplies! Glitter, glamour, and sequins are ideal additions to your Mardi Gras party. You'll look magnificently mysterious at the masquerade in your stunning Mardi Gras mask! Shop today the New Orleans way and take advantage of awesome Mardi Gras Masks at the lowest guaranteed prices!