Frightening LED Light up Mask LED Masken Glow Rave Mask Erwachsene LED Mask fü r Party Kostü m
This is a horrible luminous stitched mask, LED lighting up in the night mask, scary Halloween mask for costume dress. Full face covered plastic mask, with El Wire has woven stitched eyes and smiling big mouth and it will not have UV harm, it will not harm to human eye or body; lower temperature when lighting, and soft light produced which human eyes can handle.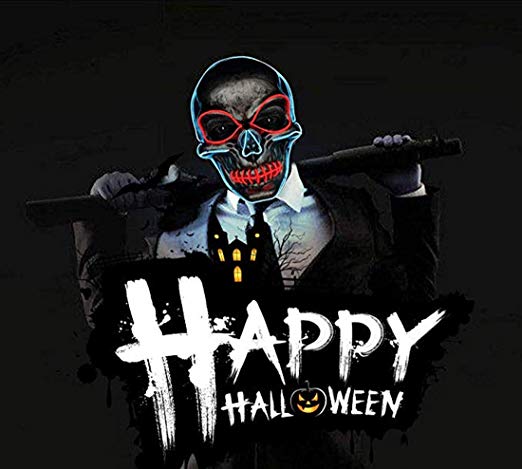 Frightening LED Light up Mask Halloween Mask Glow Rave Mask
Made of high-quality premium PVC and El Light Wire, No UV harm, Environmental Protection;

Size: 18*17*8cm/7.09 * 6.69 * 3.15 inch;

Color: Purple/Pink/Red/Orange/Yellow/Light Green/Dark Green/Dark Blue/Light Blue/White;

Great Design: Frightening LED Light up Scary Mask for the costume party;

Perfect for Party, Halloween, Hunted Theme Party, Rave Party, Club, Trick or Treat celebration, Discos, Special events decoration;

Power Supply: Powered by 2 * AA Batteries (Not Included);

Please clip the power pack to your pocket or onto your clothing.
Related Items
Halloween Frightening LED Light up Purge Glowing Mask Festival Cosplay Costume
The Masks can be used on any occasions such as costumes Party, Rave Parties, Discos, Clubs, Haloween, Festivals and Events. These masks control have 4 modes: Steady Light, Slow flash, Fast flash, Off. The scary glowing mask is plastic and includes an elastic band to place around your head in order to hold it in place, LED masks also have openings in the eye, nose and mouth area. No inferior plastic smell, no pungent smell, no UV, no adverse effects on the human body. Safety Assured. 
Questions? Please do not hesitate to contact us.